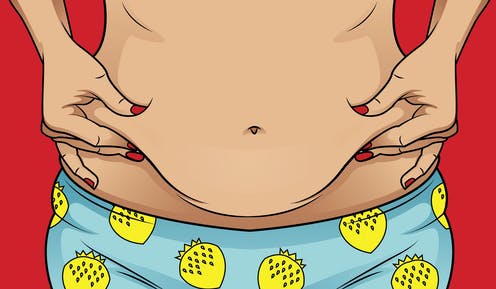 For a healthy life, being in the normal weight range is considered as the first goal. For this reason, belly fat which can be seen even in individuals who are skinny or in normal weight is not taken too seriously. However, weight never gives us information that is essential for health, such as where the body's fat mass is stored. Fat mass stored in the abdomen, liver, organs, deeper than under the skin, is a real danger to your health. Therefore, your body weight do not mattter. The most important thing for a healthy body is to have your waist circumference at the recommended width (1).
FAT MASS STORED IN BELLY ARE CLOSELY RELATED TO UNHEALTHY METABOLISM.
Excess fat mass stored in the abdomen or liver; It causes the body to show insulin resistance, that is, the cells cannot respond properly to the insulin hormone secreted from the pancreas, and the glucose (sugar) taken from food cannot be transported to the cells. Thus, glucose, which should be used as energy, remains in the bloodstream. The pancreatic organ secretes more insulin for cells to reach glucose, which causes unnecessary pancreatic fatigue and even more glucose to accumulate in the blood. That is, the blood glucose level goes out of the normal range and there is a risk of diabetes. In addition, abdominal fat has not only insulin resistance or diabetes, but also a number of risk factors such as high cholesterol level and high blood pressure (2).
THEREFORE, WAIST CIRCUMFERENCE SHOULD BE;
<80 cm in women
<94 cm in men (3).
SO DON'T SAY "I HAVE BELLY FAT BUT IT'S OKAY BECAUSE I AM STILL SKINNIY".
For the reasons I mentioned above, you should take action to get rid of your stored fat mass around the waist. You can review the items I wrote below to get noticed, to reconsider your lifestyle.
Many of the calories (energy) you take per day may come from simple carbohydrates or sugar. For this, I recommend that you keep a nutrition diary for 1 week and review what you eat by taking note of it.
You may not consume fibrous foods (vegetables-fruits-cereals-legumes) enough, drink less water and, accordingly, have digestive system problems. I recommend you to include foods such as kefir and yogurt in your diet, which are beneficial for your intestinal health, and to consume enough water and especially plenty of raw vegetables.
You may be consuming more sources of carbohydrate, protein or fat than you need. Every food item consumed in excess is stored in your body as fat. Therefore, consult your dietician to learn the ideal nutrients and amounts you need.
You may be consuming more than 1-2 glasses of alcoholic beverages a week (this amount may vary depending on the type of alcohol).
You may have insufficient sleep. Insufficient sleep increases the fat in the abdominal area. It is recommended that adults sleep 7-9 hours a day. Recommended sleep time; It is 22: 00-23: 00 (4).
Your physical activity level may be too low. Exercising regularly will make your cells more sensitive to insulin. This means your blood sugar level will be more balanced. If you want to avoid belly fat, you should definitely exercise.
You should try to reduce your stress level as much as possible. The stress hormone causes the body to increase the fat mass more easily. Exercise decreases the stress response and raises your mood up to 3 hours after the workout ends (5).
RESOURCES:
Carbone S. (2019), Obesity pardox in cardiovascular disease: where do we stand? Vascular Health and Risk Management 2019:15 89–100
Bosello O. (2016), Obesity or Obesities?, Eating and Weight Disorders 21 doi: 10.1007/s40519-016-0278-4.
TÜBER (2015), Türkiye Beslenme Rehberi, Sağlık Bakanlığı.
Hirshkowitz M, Whiton K, Albert SM, et al. National Sleep Foundation's sleep time duration recommendations: methodology and results summary. Sleep Health. 2015;1(1):40-43. doi:10.1016/j.sleh.2014.12.01
Wichers M (2012), A Time Lagged Momentary Assessment Study on Daily Life Physical Activity and Affect, Health Psychology 31. doi:10.1037/a0025688.